The schooling show at FENCE was a great success for the Clemson Eventing Team. Cali (who competed her cute little mare Faith), Elisa and I trailered Faith up on Saturday afternoon to get her settled in and walk the courses. We pulled in, unloaded Faith and bedded her stall, borrowed a water bucket for the weekend (oops!), gave her some hay and went to
The Farm House
to put my saddle up for sale. While there, I bought a fabulous pair of brown rubber reins (can't live without those!) and saw this adorable coat that I definitely need to get for Teddy:
It's a Moxie coat and would match May's cooler! They would look so cute together!

So after wandering around The Farm House and making a new Christmas wishlist, we went back to the show grounds and walked to cross country and stadium courses and talked about how Faith was going to dominate the Beginner Novice division. Then we ate dinner and went to sleep in the camper trailer.

We woke up bright and early the next morning to get things going. Cali was already out checking on Faith when Elisa and I woke up so we ate breakfast and got dressed. Cali's parents arrived about forty minutes before her dressage test and we were all chatting it up when we realized - oh yeah, Cali's got to get on in like 10 minutes! We rushed around grabbing tack and clothes, tied a not-so-lovely stocktie on Cali and got her up on Faith and in the warm up ring.

Faith was awesome in the warm up and her transitions from trot to canter were especially good. However, in the test, as what usually happens, both Cali and Faith got a little tense. But they got through the test fine. Then on to cross country!
Cali was super happy with Faith in cross country, despite a dirty stop at jump four (which had Halloween-spinny decorations on it, something which I would have stopped at too). She finally got into a good rhythm and easily cantered over everything. Stadium went well too despite a dumb stop at jump three. The rest of the course went really well and Cali rode awesome, especially to jump seven when Faith didn't really want to go over it.
The rest of the eventing team did great as well, although I wasn't able to watch all of their rides. Lauren ended up third in Novice with just one rail in stadium. Morgan catch rode a cute little mare and ended up fourth with no jumping penalties. And Katherine won her Hopeful division! Poor Julie couldn't ride her horse in cross country or stadium because of a stone bruise but his dressage test was very nice.
We put up our Eventing Team banner outside the office along with our t-shirts and while we only sold one t-shirt (bummer!), I think we got a lot of exposure for the team. It was a fun day and all of us came home both happy and tired.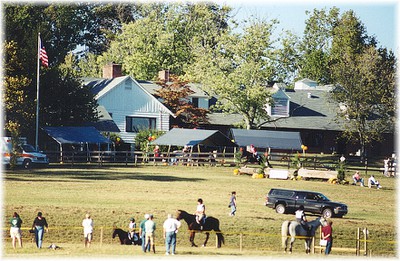 A picture of FENCE's gorgeous cross country course!